Servings 2 loaves | Prep Time 10 min | Total Time 1 hour 10 min
This satisfying loaf is hearty, moist, and full of spices and dates. Simple is best with this loaf – spread softened butter, your favorite marmalade, or nutty almond butter at breakfast or tea time.
250g Wheat Flour

150g Graham or Whole Grain Flour 

200g Sifted Rye Rlour 

125g Crushed Rye 

50g Wheat Pollard

50 ml Sunflower Seeds

1 tsp Salt

4 tsp Bicarbonate of Soda

50 ml Crushed Walnuts

100 ml Chopped Dates

1 l Sour Milk or Buttermilk

200 ml Dark Syrup/Treacle

3 Tbsp

Epic Spice Rustic Bread Spices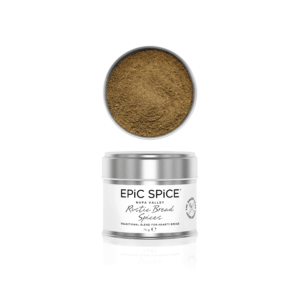 Heat the oven to 175°C
Mix all dry ingredients in a big mixing bowl.
Add the sour milk and syrup. Mix well until a dough forms. Since this is a yeast-free dough and uses bicarbonate of soda, this is a no-knead recipe.
Grease and flour two 1½ liter bread forms
Pour in the mixture evenly and then bake in the lower part of the oven for 1 hour or until fully baked.
Once fully baked, take the out of the oven and let cool in the bread form for 15-20 minutes.
Then, run a butter knife around the edges of the bread form, loosening the loaf from the form. Gently turn the bread out (don't do this step too soon or you'll risk leaving some of the loaf stuck to the form).
Cool for an additional 30 minutes minimum before slicing.
Slice and serve. Perfectly satisfying loaf for breakfast or tea time.
Serve the bread with whipped Feta cheese, garlic, and honey basil spread. Mix in a blender; 50/50 Feta cheese, cream cheese, drips of olive oil, 2 fresh garlic cloves, 1 spoon of honey, a pinch of sea salt, and a handful of basil leaves. Run to a smooth spread.
You can't go wrong with the tangy feta spread with the rustic bread.